Discover more from The Weekly Fill
The only e-mails proven to make you healthier and happier. Where mind meets body bringing you practical advice that works.
Over 28,000 subscribers
The Weekly Fill: When You're Bad At Health
4 minute read | Read if you feel like you're bad at health!
I was having a bad morning. To distract myself from these feelings, I decided to open social media. My wiser self knows this is never a good idea. Instagram has a way of highlighting the perfection of others' lives while setting a bar that is nearly impossible to achieve.
When behind the scenes, everyone has struggles. I'm sure of it.
Take, for instance, these photos. The photo on the left is the picture I posted to a blog this week. On the right is what was right outside the tiny frame—all the things you couldn't see.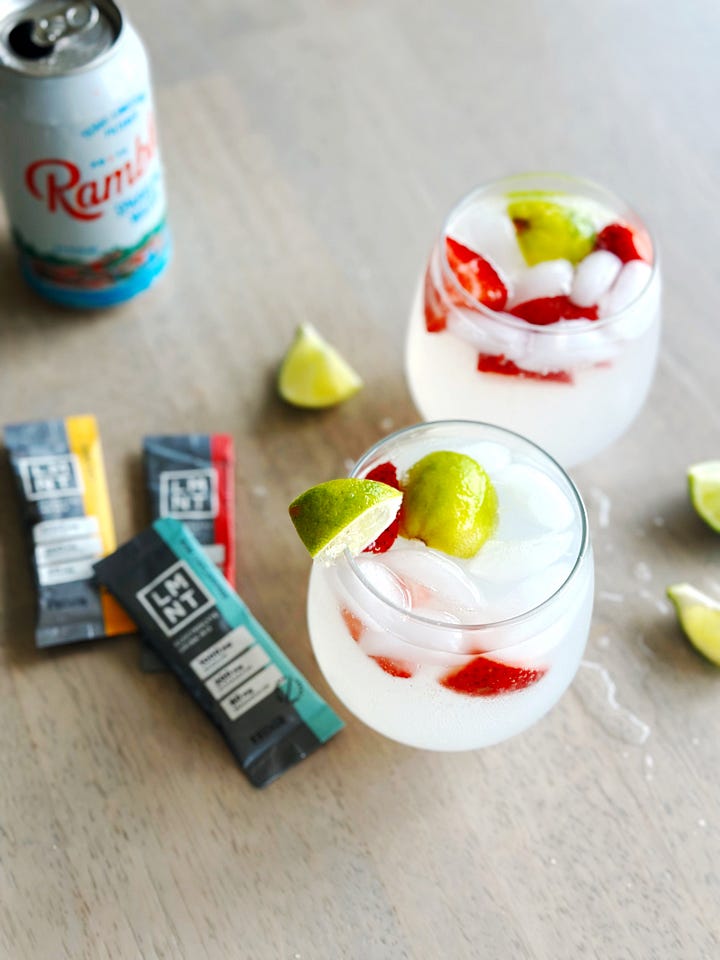 Dirty dishes. Empty chip packages that didn't make it to the trash from the morning rush switch over my kid's lunch boxes from yesterday to today.
I just felt a slight quiver, knowing I told you I often pack highly-processed chips in my kid's lunches.
Does that make me a hypocrite?

Does that mean I'm bad at health?
The answer is no. It means I'm human.
Of course, before having kids and fighting through my own health crisis, I would have told you to work more, eat less, and never engage with anything processed. God forbid you pack frito-lays in your children's lunch.
It's similar to your thoughts about parenting before you have kids.
Judging the moms who let their kids eat french fries from the food court floor. But then, you have your own. As your child licks the mirrors in the department store and picks gum off the bottom of the table, all you can do is laugh for turning into the parent you once judged.
Like parenting, the micromanaging of everything tends to make everyone, including and mostly yourself, more miserable. Sometimes, the best thing you can do is to let go of the fact that you might not be good at some things, but that makes room to be good for the most important things.
It's priorities.
I've had to learn the same in health because the other way made me sick and slightly crazy.
If you've ever spent time on social media, you might find these health messages remind you, like a flashing neon sign, how bad you are at health. Here are a few things I was reminded of while scrolling social media this morning.
My air quality is probably killing me.

If it's not my air quality, it's my toxic skincare products or not-so-natural laundry detergent that I sometimes use.

My hormones are a mess or could be. How would I know if I didn't get the latest metabolic test?

I didn't complete my morning routine because I don't have one. But now that post makes me feel like I'll never be successful (whatever that means) if I don't add it to my day. 

My kids will certainly need therapy because I didn't put a special note inside telling them how much I loved them. (In all fairness, they'll probably need therapy anyway. Don't we all?)
Don't get me wrong, all of this stuff matters, but I'd argue none of it is worth the obsession and perfection we've made it to be. 
I know I pump out the same or similar information as the posts I find myself complaining about.
Eat more sodium. Forgive others. Work on your nervous system. Eat seasonally.
But let this post be your reminder there has to be a balance.
No one, and I repeat, no one, is living life perfectly. Most people are doing the best that they can with what they have.
Give yourself some grace for what you ARE doing instead of worrying so much about where you're not adding up.
Here's the truth: You're not good at many things. It's part of being human. 
But it's not being bad at things that are stalling your life. 
It's spending too much time fixating on it. 
What you give attention to, you give energy to grow.
When you give all of your attention to what you're not, those ideas become bigger. They become the center of your life, even part of your identity. In the process, this makes the solution nearly impossible to find. 
But when you embrace that you're not good at things, you can start to work on them. You can learn from them. Grow in them and work through them. 
You can break down the complexity and see your body for what it is. 
One of the best ways I can encourage you to do this is to remind you to stop focusing on what needs to be fixed in your life and focus on what you can do to fill yourself. 
Filling is out of abundance. It is a vote for the belief that health is inside of you.

Fixing is out of scarcity. It leaves you believing you have to chase it down. You have to perfect it.
When you spend your life trying to fix yourself, you deplete yourself of the necessary energy to heal.
Instead of working to "FIX" your:
Weight problem.

Health symptoms.

Marriage.
Spend more time:
Filling your body with energy and nutrient-rich foods.

Incorporating more activities that nourish your body.

Spend more quality time with your kiddos cuddling and playing board games.

Fill your marriage with more laughter and intimacy.
The truth is, it's not up to us to fix ourselves. We can't. Because broken things can't fix broken things (that's why we need a savior).
But we can fill ourselves and others, even when things are broken. And even if we feel bad about it.
It's not about how you're failing. It's about how you're filling. 
And this reminds us it's never really about the chips or purchasing the expensive air purifier. Like all things, they do have the ability to help or hurt you. But what matters more than what we do is how we show up. 
Be intentional with life. Understand your priorities. Act out of love. 
And give yourself a break. I think you're doing pretty good! 
---
Let's do a Win on Wednesday! What is one win you've had in health lately? Leave a comment below!