Discover more from The Weekly Fill
The only e-mails proven to make you healthier and happier. Where mind meets body bringing you practical advice that works.
Over 28,000 subscribers
The Secret To A Healthier Summer (FREE GUIDE)
3 minute read
"Don't '
someday'
yourself out of a life."
I heard this quote from the TV show A Million Little Things. I'm not sure how I feel about the show, but I know how I feel about this quote.
It so quickly put into words my mission statement - don't wait to live, but get out there and do it.
Trust me, I'm no stranger to 'someday' or 'should.' I've spent my fair share of time pushing off what's important for the sake of what feels urgent. And I realized this is not very fulfilling.
It's more like surrendering to the chaos of life and choosing that over living.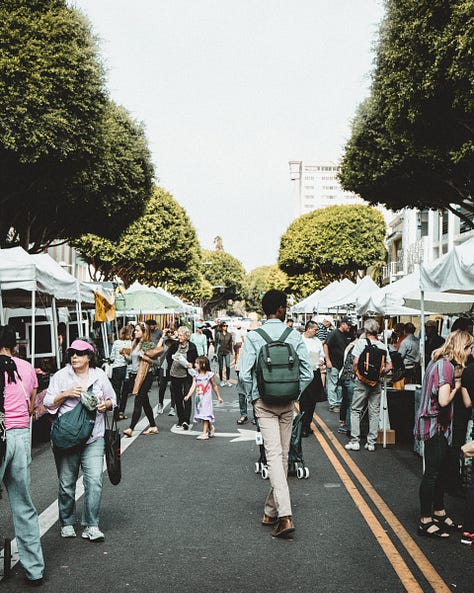 I'll be honest. I've been frustrated in my own life for the last few years. I've been spending most of my time doing what's 'urgent' while neglecting what matters. Leading my life to feel like it's lived on a hamster wheel rather than moving forward and seeing progress in areas I want to grow.
It's a cycle that keeps you stuck and ends with guilt, leading to shame, which encourages me to give up.
If I had to list some things I most often neglect, it would be the things I actually want to do (DREAM LIST):
Downtime to read

Cooking healthy meals

Drinking water

Time with God

Making time for friends

Intimacy with my husband

Quality time with my kids

Writing
If I made another list of what "urgent" needs have cause me to neglect these, it would be daily tasks (CURRENT DAY):
Laundry, so much laundry

E-mails and text messages

Cleaning

Giving into what people ask of me, not what I want to do

Chasing things that are hard to put into words
I'm writing this list, and the urgent things seem harder to put into words. But I can already tell you by the list - these urgent requests are important, but they aren't fulfilling. Leading to one more step in the process:
The list of ways I try to comfort my lack of satisfaction with things that only temporarily mask but have long-term consequences:
Eating chips, because chips are my comfort food

Binging Netflix

Scrolling social media

Researching not to learn but to boost my confidence

People-pleasing
Do you see the cycle? Do you live the cycle?
The good news is, once you see it, you can change it!
If you do the 'someday' thing first, I can assure you that urgent things will always get done but without the power to derail you. I know you don't think you have time, but what if I told you, you didn't have time not to?
I'm beginning to think some of the most powerful things are things we've gotten backward.
Don't neglect what fills you up by living for what brings you down.
Urgency will always be knocking on your doorstep, but you don't have to let it control you. This summer, I want you to do the someday things! The things you've put off that you want to. To make it a summer of forward movement.
---
Make three lists:
What is on your 'someday' list or a list of things you most often neglect?

Make a list of urgent tasks that cause you to neglect list one.

Put an action plan together to make your someday list a now-list.
Pick one or two things this summer that you're going to make happen!
Make sure you snag a copy of The Summer Rhythms Guide! It will help you map out plans to make this happen!
>> GET THE SUMMER RHYTHMS GUIDE HERE <<
---
​Grab a Nourished Planner for extra accountability! It's a game-changer!
Life isn't what is thrown your way. It's how you live it.
Don't someday yourself out of a life.
Live it!
Health Advice Proven to Make You Healthier + Happier - Delivered Straight to Your Inbox