Discover more from The Weekly Fill
The only e-mails proven to make you healthier and happier. Where mind meets body bringing you practical advice that works.
Over 28,000 subscribers
Break Up With Schedule Shaming
Take a look inside the 2024 Nourished Planner!
Break Up With Schedule Shaming
I've been on a mission to prove health and happiness are like cinnamon and sugar. Perhaps you can be happy and not healthy, but you certainly can't get healthy without happiness. It's a pre-requisite to health that we tend to blow off.
Your biology is always responding to your emotions. How you feel (happy or not) changes the outcome of your body. If you can change your demeanor, you can shift your health.
How do you do that?
Arguably, it's in how you live your life. Or better said, how you fill it.
That's why I'm passionate about the Nourished Planner. It helps you create health and happiness by what you choose to fill your day with. To end schedule shaming and fill your life in a way that supports your health and happiness.
Let me show you around the 2024 Nourished Planner!
🎉🎉🎉 Get your 2024 Nourished Planner here! 🎉🎉🎉
2024 Theme: HOW-TO
The theme last year was the first time I felt like it was worthy of a second printing, so we kept the theme from 2023 for this year as well! It includes twelve months of different How-To's that will shift your narrative, change your perspective, and challenge your old thought patterns.
In 2024, you'll learn a new approach for:
How To Get Healthy

How To Like Yourself

How To Set Boundaries

How To Get Back on Track

How To Become Happier

How To Healthify Your Thoughts
Each month gives you an overview, an action step, and weekly tips, challenges, and quotes to keep you engaged and intentional with making lasting changes to healthify your life.
Of course, with the end goal of helping you live life to the fullest!
What could be better?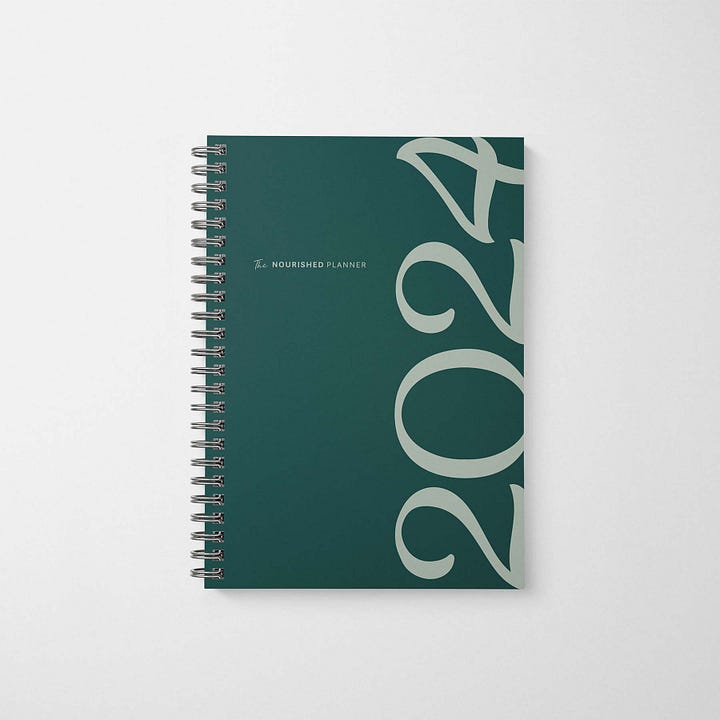 The colors!!
The colors we chose for 2024 are off-white and the most delicious green you've ever seen. It still has a hard plastic front and back cover to protect everything.
Here's a look inside:
Monthly Themes
The month's how-to's will challenge you to propel forward into growth, creating lasting change. To do this, you'll get:
✓ Monthly theme to challenge and propel you forward
✓ Prioritizing your top areas of focus, including task lists for the month
✓ Create goals and intentions for the month
✓ Monthly finance tracker
The Weekly Spread
Don't underestimate what you can accomplish in a week. Use the weekly spread to plan your day and keep your health goals in check.
✓ Wellness plan to plan or track your meals and workouts
✓ Space to keep track of appointments
✓ Top daily to-do's
✓ White space to dream or create
✓ Quote to encourage you forward
Month-at-a-glance
The monthly spread is your big-picture overview of events you must remember. It's also home to the new habit tracker.
✓ Monthly overview, including holidays
✓ Space to track events and appointments
✓ Monthly habit tracker to plan your habits and track them all month long
Bullet Journaling
One of our favorite parts of the Nourished Planner is the bullet journaling space and project trackers. Use this space to plan and track dreams, projects, and ideas in whatever fashion you love. The place where the planner becomes a part of your personality and a part of you.
✓ Four designated boxes to dream, doodle, track dreams and projects
✓ Dotted page to bullet journal
Health Trackers and Tips
Our seasonal food list is one of the staple favorites that has been in the planner since day one. Use our health and finance trackers and these tips throughout the planner to make life easier.
✓ Quick Year At-A-Glance
✓ Seasonal Foods
✓ Habit Trackers
✓ Much More!
What about Google Calendar?
Don't worry. Google Calendar can still have a place in your life. But it can't help you dream! I may use Google Calendar for some things, but time and time again, I come back to the paper planner to keep track of notes, lists, tasks, meal plans, and my health and life goals for the year.
If you have questions or comments, drop them below and let us know!
Don't forget to share this with your friends and family and let them know the 2024 Nourished Planner is in stock and ready to ship!